Escape Travel
Corfu
Biking
Take the chance to explore Corfu with a bike tour that will take you from Pantokrator the highest mountain of the island to the rural lanes and the coastal routes. The guides will make sure that you will be provided with the best equipment possible and will take into account the abilities of everyone in your group, in order to keep an enjoyable pace and get the most out of your tour. If you are looking to do something more besides visiting the local beach while you are in Corfu then our biking tours – activities is a must.
Escape Travel
Corfu
Excursions & Tours
EscapeTravel organizes excursions to discover the history,  the natural beauties and the culture of Phaeacia's island. The sights of Corfu are waiting for you and your friends.
Our tours are carefully selected by the Escapetravel team. Υou will be transferred by our MiniBus enjoying unforgettable moments .You will have the opportunity to taste local wines as well as to have an Olive Oil tasting experience.
You can choose any tour from those that has been planned by the EscapeTravel team or you can create your own.
Escape Travel
Our
Reviews
Our previous clients loved our services!
Schon zum zweiten Mal sind wir mit Christos aus dem Alltag geflüchtet - der Name seines Unternehmens ist Programm. Kaum sitzt man in seinem geräumigen und gepflegten Bus, beginnt der... read more Urlaub. Mit vielen Tipps und Empfehlungen kann er uns helfen, und kennt natürlich die Insel wie seine Westentasche. Chris lässt einen natürlich auch die Fahrt in Ruhe genießen. Unser Eindruck aus dem Jahr 2019 hat sich in diesem Jahr nur bestätigt: Herr Spatiotis ist wie immer professionell, verlässlich und nicht zuletzt ein sehr sicherer Fahrer. Bis zum nächsten Mal Christos, efhari

Kay S


01/01/1970

Great service, the Driver Chris is amazing and super kind, good price and really pleasent journey!
T

lorenzo c


01/01/1970

Our driver Christos was ready at the airport when we arrived and took us to our apartment. He was very welcoming and friendly and told us about history of Corfu.... read more We felt safe and in go

matthias c


01/01/1970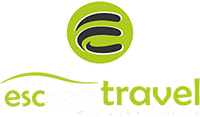 GENERAL TOURIST OFFICE 
Agios Georgios Pagoi – 49081
Spatiotis Christos
+30 6946 126286



Escape Travel has an Authorized Licence by Greek Ministry of Tourism (EOT) MHTE: 0829E60000065301