Escape Travel
Corfu
Accommodation
Book Accommodation North Corfu. In North Corfu most accommodations are an ideal choice for families with children. They are located near the beach surrounded by greenery with an amazing view.
The recommendations below are suitable for those who are looking for an accommodation in the northern part of the island.
Honigtal Farmland, is a farm, located in northwestern Corfu, in the village of Agios Georgios (Agios Georgios) Pagoi. The village is probably the most beautiful part of Corfu. The beach is just 400 meters from the HonigtalFarmland easily reached on foot.
Sunset Sea ViewVillasCorfu is located in northwestern Corfu in a picturesque and  very attractive area near sandy beaches of Agios Georgios Pagos, Arillas and Agios Stefanos, close to the popular beautiful mountain village of Afionas Known for  the double bay of Porto Timoni. All accommodation has a private infinity pool and beautiful sea views of Arillas and Agios Stefanos, as well as Cape Kefali.
Learn more about Honigtal Farmland (a contributing resort) or choose your accommodation in Corfu Apartments Villas
Escape Travel
Corfu
Honigtal Farmland
An ideal choice for families with children who wish to experience relaxing and eventful holidays. The Honigtal Farmland is located in Agios Georgrios Pagi.
Escape Travel
Corfu
Apartments Villas
Corfu Apartments Villas offers a wide variety of accommodation from villas to cottages in North Corfu. All accommodations are carefully selected and you have the ability to book your stay online.
Escape Travel
Our
Reviews
Our previous clients loved our services!
Very good service, on time and very friendly driver. Good price as well! We would use it any time again and can recommend it to e

Gabriele K


01/01/1970

Booked the transfer from and to the airport. (Destination: Agios Georgios)
Service was excellent - Trip was on time, ride was safe, driver was super kind and the shuttle was... read more clean and in top shape.
I absolutely recommend the service without rese

Steffen


01/01/1970

Es hat alles super gut geklappt! Die gute Kommunikation wurde ja schon erwähnt - diese kann ich ebenfalls bestätigen. Wir waren eine große Familie mit vier Kindern und viel Gepäck... read more - das war alles kein Problem. Chris hatte auch an einen Babysitz für unseren Jüngsten gedacht. Die Kinder bekamen sogar einen Lolli geschenkt und auch Wasserflaschen wurden uns angeboten. Was ich auch sehr angenehm fand, war, dass der Fahrer wirklich sehr umsichtig fuhr (wir hatten bis zu unserer Unterkunft recht viele kurvige, enge und holprige Straßen) - so könnten wir unseren Transfer als "Panoramafahrt" wirklich genießen. Also: Vie

Philine2018


01/01/1970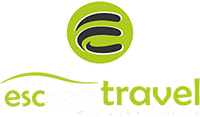 GENERAL TOURIST OFFICE 
Agios Georgios Pagoi – 49081
Spatiotis Christos
+30 6946 126286



Escape Travel has an Authorized Licence by Greek Ministry of Tourism (EOT) MHTE: 0829E60000065301